Commonwealth Plastic Surgery: Jared Nimtz, MD
715 Shaker Dr., STE 100
Lexington, KY 40504
Phone: (859) 277-9435
Monday–Friday: 9 a.m.–5 p.m.

Commonwealth Plastic Surgery: Jared Nimtz, MD
100 Professional Dr.
London, KY 40741
Phone: (859) 277-8615
Monday–Friday: 9 a.m.–5 p.m.

Does your neck need a rejuvenating treatment to address the issue of too much fat in the throat region? If you live in greater Lexington and Georgetown as well as the surrounding communities of Kentucky, Dr. Jared Nimtz of Commonwealth Plastic Surgery offers neck liposuction to help restore your youthful appearance. Contact us today to set up your neck liposuction consultation.

Neck Lift

Before & After Photos

Keep in mind that each patient is unique and your results may vary.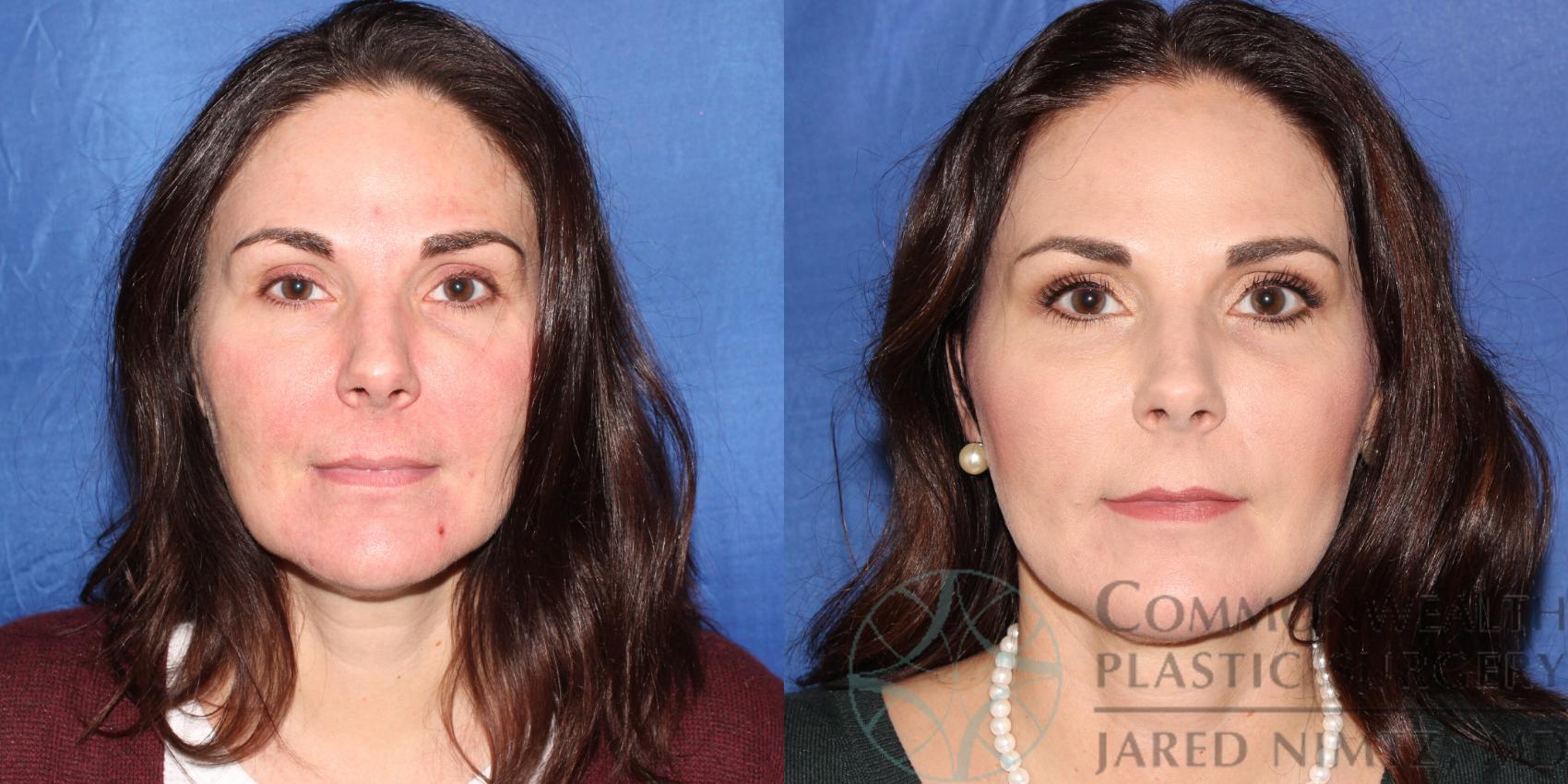 Before & After
Case #89
This woman in her mid forties from Lexington wished to restore volume to her cheeks, under eyes, and lips. She liked the idea of skin tightening without the need for a larger incision. Dr. Nimtz used Facial fat grafting paired with Liposuction of the neck and Renuvion to achieve a neck lift.
Read More
Keep in mind that each patient is unique and your results may vary.
WHAT IS NECK LIPOSUCTION?
Your neck can make you look better or worse. As we age, fat can accumulate in the neck region, altering your profile. Liposuction can help you remove those fatty deposits so that your neck's true shape can be revealed. Optimize your youthfulness by removing fat that's on your neck that isn't responding to diet and exercise. Dr. Nimtz can help you with skillful neck liposuction.
WHAT ARE THE BENEFITS OF NECK LIPOSUCTION?
Eliminate excess fat from the area of your jaw, cheek zone, and neck. Neck liposuction can help you eradicate puffy jowls and too chubby cheeks, and it's particularly effective at addressing fat accumulated in your neck area or under your chin. This fat, also called submental fat, or a double chin, can be addressed with neck liposuction. Your youthful neck and a fresh face will emerge, as your double chin evaporates, and fatty tissues accumulate below your jawline.

Dr. Jared Nimtz
Dr. Nimtz is a Lexington board-certified plastic surgeon who is highly skilled, experienced, and truly cares about his patients. Through a conservative, classic approach to surgery he provides natural-looking results that are attractive and proportionate.
Meet Dr. Nimtz
WHO IS A CANDIDATE FOR NECK LIPOSUCTION?
If you are concerned about fat on your neck, but you don't know how to eliminate it with diet or exercise, then you should know that neck liposuction from Dr. Nimtz removes fat from within your neck region. This corrects a drooping or overly full neckline, eliminating the fatty deposits in your neck, throat, chin and jaw area that are undermining your facial appearance. Is fat in your neck detracting from your self-confidence? Neck liposuction can sculpt definition to your face, jaw and neck areas. Neck liposuction extracts excess fat from your chin, neck, jaw or cheeks, and this highly specialized procedure from Dr. Nimtz effectively suctions away unwanted facial fat, providing greater definition and improving the contours of your face.
WHAT IS THE PROCEDURE FOR NECK LIPOSUCTION?
Neck liposuction is generally performed with only a local anesthetic and an intravenous sedative. During your initial consultation, Dr. Nimtz will review your options for anesthesia so that he can recommend the very best choice for your treatment. After assuring your comfort, Dr. Nimtz will make tiny incisions either inside your mouth (intraorally) or beneath your chin, and then using a thin tube or cannula he will move it back and forth to break up any fat, suctioning it away, while carefully sculpting and contouring the treatment area, which will result in a firmer and more defined neck and face. Dr. Nimtz performs neck liposuction through small, inconspicuous incisions, as fat is separated from other tissue and removed through the small incisions with a syringe or small vacuum. Your incisions will be closed with sutures, and you may return home to begin your recovery a few hours after your surgery. Following your neck liposuction procedure, you will be asked to wear a special dressing for several days during your recovery period, and Dr. Nimtz will monitor your progress while you heal. Patients are generally ready to return to work within a week or two following their neck liposuction procedure.

WHAT IS THE COST OF NECK LIPOSUCTION?
The cost of neck liposuction varies depending on your specific needs, and the extent of treatment needed.  After your consultation with Dr. Nimtz, we will identify exactly what your neck liposuction procedure will cost, at which time we will give you an all-inclusive quote. We do offer CareCredit® as a financing option, and our office also accepts Visa, Master Card, American Express, and Discover as well as cash or personal checks.
Lose the unwanted fat on your neck with neck liposuction. Men and women of greater Lexington and Georgetown, as well as the surrounding communities of Kentucky, receive expert neck liposuction results from Dr. Jared Nimtz of Commonwealth Plastic Surgery. Contact us today to set up your consultation!