Men and women of greater Lexington, Louisville, London, and Bowling Green, KY, as well as Knoxville, TN, choose Commonwealth Plastic Surgery for otoplasty treatment designed to sculpt your ears for a perfect profile. Contact us today to set up your consultation with Dr. Jared Nimtz.

Ear Surgery
Before & After Photos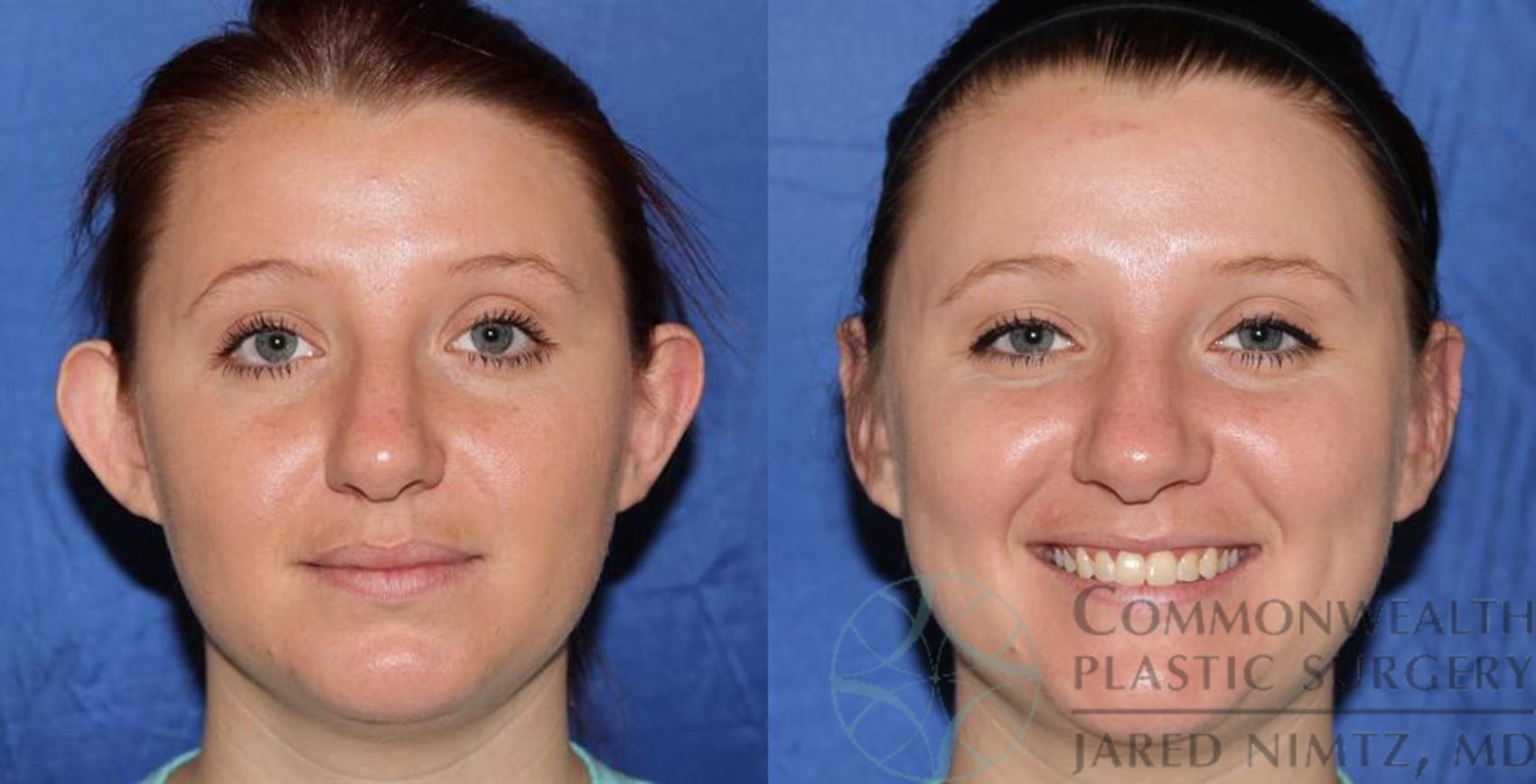 Before & After
Case #56
This is a woman in her mid twenties from Eastern Kentucky who was teased about her prominent ears as a child. She underwent otoplasty to correct their position.
Keep in mind that each patient is unique and your results may vary.
WHAT IS EAR SURGERY (OTOPLASTY)?
Are you unsatisfied with how your ears are shaped or how far they stick out? Otoplasty, or ear surgery, can reshape your self-image by creating a natural shape while bringing balance and proportion to your ears and face. Because of your ears prominence, even the correction of very minor deformities can offer truly profound benefits to your appearance and sense of self-esteem. Smoother, rejuvenated ear skin, lower profile ears that don't stick out, and a symmetrical ear shape that frames the face favorably are the goals of otoplasty with Dr. Nimtz, along with the reconstruction of overstretched earlobes from heavy earring usage.
WHAT ARE THE BENEFITS OF EAR SURGERY?
Ear surgery, also known as otoplasty, is a surgical procedure that slightly pins back protruding ears, reduces the size of large ears, reshapes ears or corrects misshapen earlobes. Ear surgery is performed on one or both ears to ensure symmetry, and otoplasty can improve the shape, position or proportion of the ear. Otoplasty is often used to correct a defect in the ear structure that has been present since birth, although it may also be used for treating misshapen ears or misshapen ear lobes brought about by injury or accident.

Dr. Jared Nimtz
Dr. Nimtz is a Lexington board-certified plastic surgeon who is highly skilled, experienced, and truly cares about his patients. Through a conservative, classic approach to surgery he provides natural-looking results that are attractive and proportionate.
Meet Dr. Nimtz
WHO IS A CANDIDATE FOR EAR SURGERY?
You may be a good candidate for otoplasty if you or your child's ears have reached maturity in shape and size, but are somewhat distorted from an ideal shape. Even if the ears are only mildly distorted, the condition can lead to self-consciousness at work or socially, and poor adaptation to school in children. Children with differently shaped ears have long been the victims of cruel nicknames, including "Dumbo" or "Mickey Mouse," and this surgery can be performed at any age after your ears have reached full size. A consultation with Dr. Nimtz can help determine whether you or your child may benefit from otoplasty surgery.
WHAT IS THE PROCEDURE FOR EAR SURGERY?
Otoplasty procedures will tend to vary greatly for adults and children and depending on the specific aesthetic objective. For adults, ear surgery is performed by Dr. Nimtz using a local anesthetic and a mild sedative so that you are awake but relaxed during the procedure, but you feel no pain during your treatment. For children, ear surgery with Dr. Nimtz is generally performed under full general anesthesia, ensuring your child's maximum comfort during the procedure. After maximizing the patient's comfort, small incisions are made behind the ear, which will result in minimal scarring. Dr. Nimtz will then remove the necessary amounts of cartilage and skin required to achieve the ideal cosmetic effect, and in some cases, Dr. Nimtz will trim the cartilage directly, shaping it into a more desirable form or pinning the cartilage back with permanent sutures to secure the new shape of the ear. In other instances, Dr. Nimtz will not need to remove any cartilage at all, instead of using stitches to hold the cartilage permanently in place. Dr. Nimtz will apply sutures to anchor the ear until healing occurs, effectively holding the ear in the desired position.

HOW MUCH DOES EAR SURGERY COST?
The price of otoplasty varies from patient to patient depending on the extent of treatment needed as well as other factors. After your consultation with Dr. Nimtz, we will identify exactly what your procedure will cost, at which time we will give you an all-inclusive quote. We do offer CareCredit® as a financing option, and our office also accepts Visa, Master Card, American Express, and Discover as well as cash or personal checks.
Otoplasty from Dr. Jared Nimtz restores your ears to an optimal appearance. For those residents of greater Lexington and Georgetown as well as the surrounding communities of Kentucky, otoplasty from Commonwealth Plastic Surgery can give your ears the look that you deserve. Contact us today to set up your otoplasty consultation!
A Reputation Built on Results
Dr Nimtz and his staff are wonderful! His wife and him make a great team in making sure the patients...
Dr. Nimtz and his entire staff are incredibly caring and kind. So professional and go beyond to help...
Commonwealth Plastic Surgery is such a caring, pleasant atmosphere. Michael Anne is my injector and...
Great experience with the facility and specifically my injector. Michael Anne mapped out where Botox...