For a revitalizing treatment designed to bring the sparkle back to your face, residents looking for an eyelid surgery specialist in greater Lexington and Louisville, as well as the surrounding communities of Kentucky, select Commonwealth Plastic Surgery for personalized and excellent results exceeding all of your expectations. 

Eyelid Surgery
Before & After Photos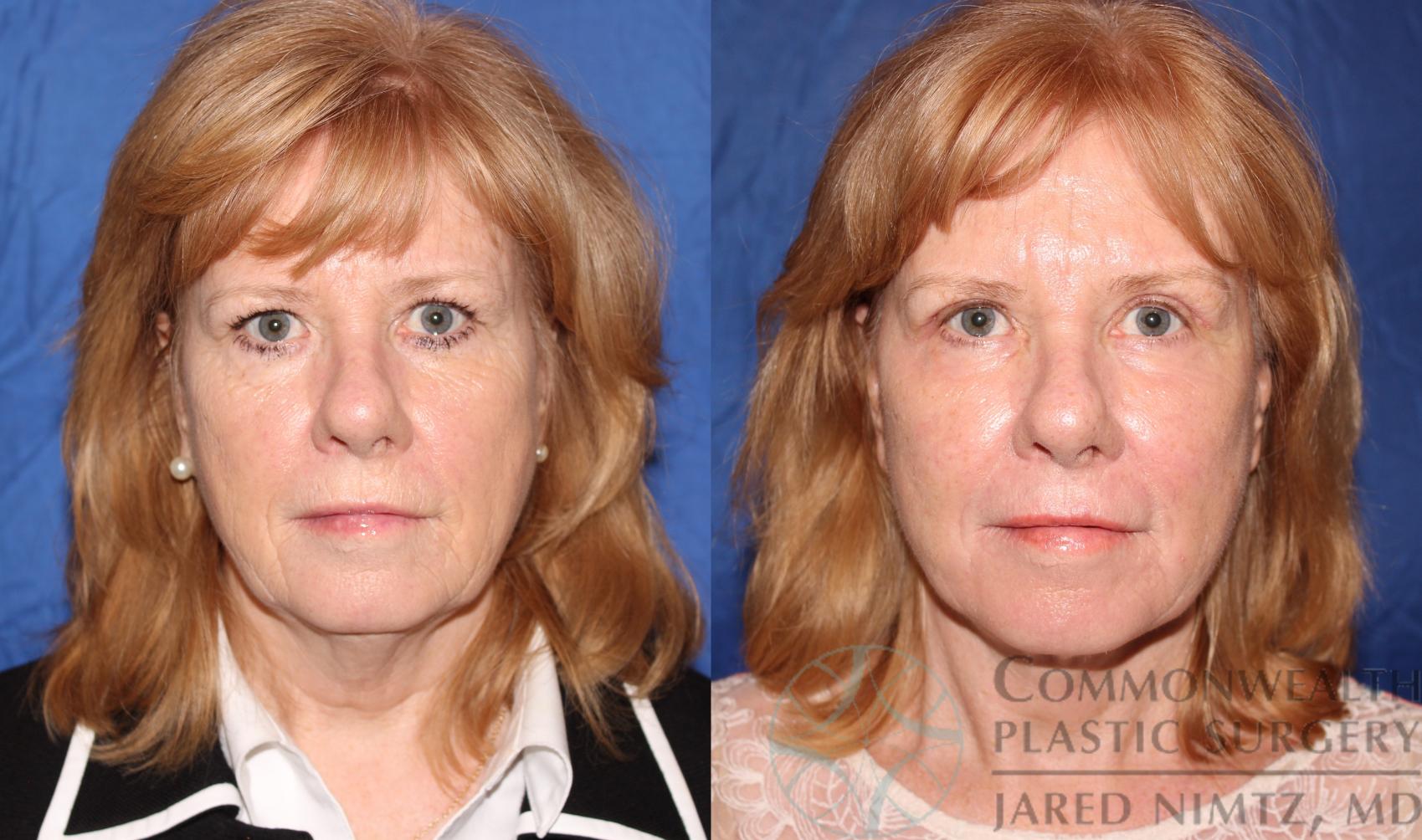 Before & After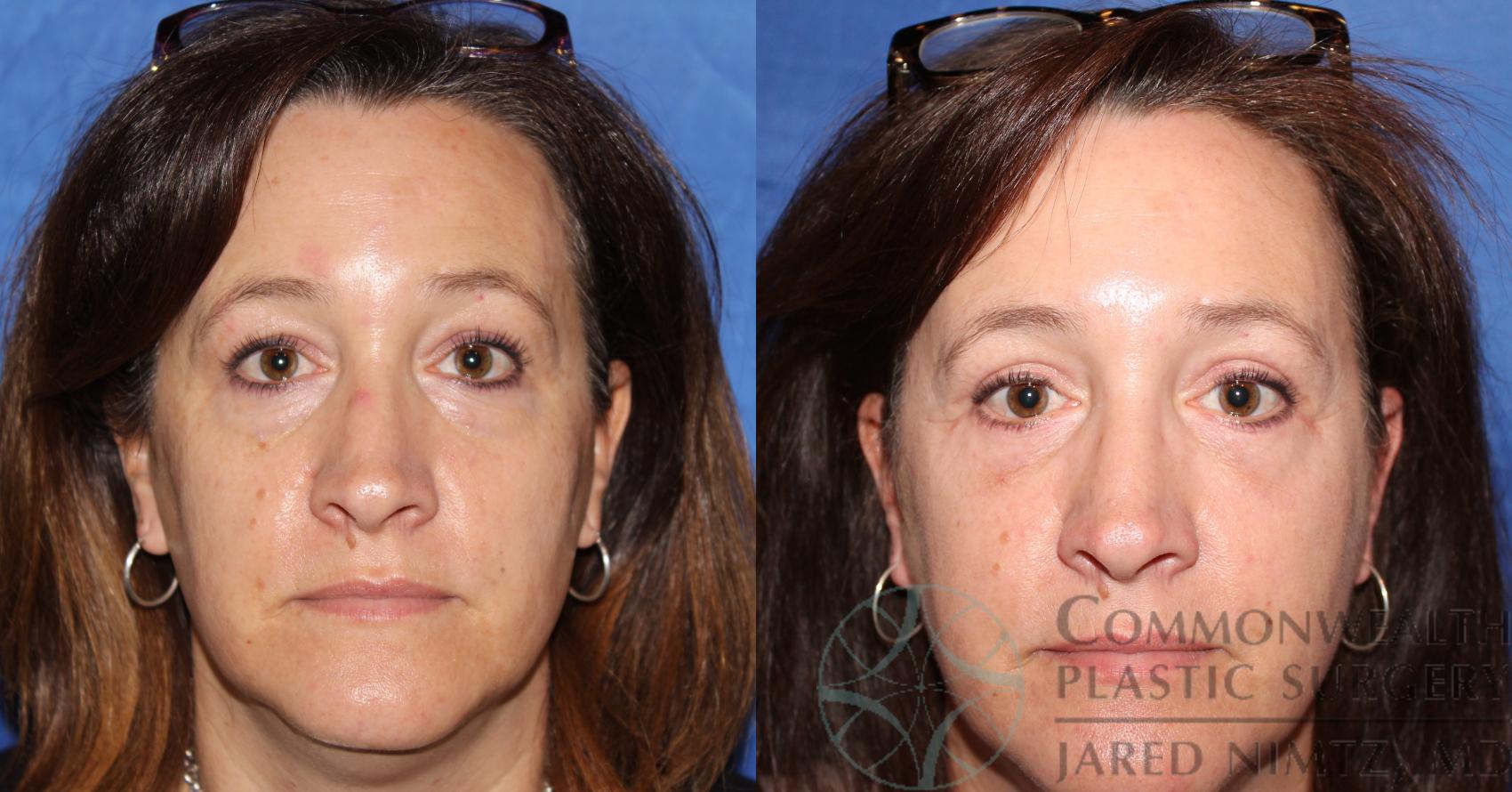 Before & After
Keep in mind that each patient is unique and your results may vary.
WHAT IS AN EYELID LIFT?
So much of communication occurs eye to eye, without the need for the mouth or ear. What messages are you sending? If you are interested in improving the appearance or function of your eyelids, Dr. Nimtz can help. A variety of procedures can be used to treat saggy or loose skin, wrinkling of the eyelids, puffiness or bags under the eyes, and other contour irregularities.
WHAT ARE THE BENEFITS OF AN EYELID LIFT?
Nothing makes you look old quite the way that puffy or baggy eyelids do, or excess eyelid skin that flaps down, obscuring a clear view of your eyes. It is a natural byproduct of gravity and aging, but unfortunately, the cosmetic effect can be to add many years to your appearance. If you want to reverse these effects of aging, then take the time now to set up your consultation with Dr. Nimtz, and find out if you are a candidate for an eyelid lift. Ptosis repair is a type of eyelid lift procedure that Dr. Nimtz may recommend to tighten the muscles under your upper eyelids to reveal a fresh, revitalized appearance.

Dr. Jared Nimtz
Dr. Nimtz is a Lexington board-certified plastic surgeon who is highly skilled, experienced, and truly cares about his patients. Through a conservative, classic approach to surgery he provides natural-looking results that are attractive and proportionate.
Meet Dr. Nimtz
WHO IS A CANDIDATE FOR AN EYELID LIFT?
Set up your consultation with Dr. Jared Nimtz today, and find out if you are a candidate for an eyelid lift. If you feel like the sparkle in your eyes and your natural beauty are being clouded over by eyelids in need of a lift, then there are a variety of different procedures and treatments that Dr. Nimtz can utilize to perform an eyelid lift procedure. During your consultation, based on your specific needs and desires, Dr. Nimtz will develop a customized solution that represents the ideal eyelid lift to restore your youthfulness.
WHAT IS THE PROCEDURE FOR AN EYELID LIFT?
During your consultation, Dr. Nimtz will review the specific procedure or treatment that he recommends for your eyelid lift. In some cases, a blepharoplasty may be recommended by Dr. Nimtz, which generally involves the removal of drooping tissue. When performed on your upper eyelid, it will make your upper eyelid and eyelashes much more visible. Ptosis repair, which gives you an eyelid lift by tightening your eyelid muscles, is a quick, outpatient procedure that generally takes less than two hours to complete. During your procedure, tiny incisions are made through which the muscles are tightened. Your comfort will be assured during your procedure with your choice of local anesthetic without sedation, local anesthetic with some sedation, or full general anesthesia; however, if you do choose to remain awake during your surgery, you will not feel any discomfort aside from very gentle tugging every now and then. Your recovery will take about two weeks, and during your healing process, you may experience some pain, and your eyes may feel sticky, itchy, watery, or dry, but Dr. Nimtz will provide you with eye drops, ointments or pain medicine to relieve these conditions.

HOW MUCH DOES AN EYELID LIFT COST?
The price of your eyelid lift will vary depending upon your unique needs and goals, the extent of treatment needed as well as other possible factors. After you meet with Dr. Nimtz, we will identify exactly what your eyelid lift procedure will cost, at which time we will give you an all-inclusive quote. We do offer CareCredit® as a financing option, and our office also accepts Visa, Master Card, American Express, and Discover as well as cash or personal checks.
Look younger and feel better about yourself with an eyelid lift. Residents of greater Lexington, Louisville, as well as the surrounding communities of Kentucky, choose Commonwealth Plastic Surgery for rejuvenating and enhancing results. Contact us today to set up your consultation!
A Reputation Built on Results
Commonwealth Plastic Surgery is such a caring, pleasant atmosphere. Michael Anne is my injector and...
Great experience with the facility and specifically my injector. Michael Anne mapped out where Botox...
There is absolutely no way to put into words how amazing Dr.Nimtz & his wonderful staff are! I've had...
I scheduled a consultation with Dr. Nimtz for breast implant exchange based on referrals from other...